SHOPSHOPCHINA
To help sure your brand keeps its status, fashionable designs are crucial. With the help of our in-house design team, we can make designs for you, modify your original designs or use a design from our collection that can be modified to suit your brand. In addition, our technicians can advise you in what artwork-techniques can be used to achieve the wanted outcome
Our team of Merchandisers, all fluent in English, closely follow the orders and make sure all your comments are followed. Starting from the 1st samples, we contribute by giving constructive ideas on styles in order to improve quality and speed up the sampling process. In addition, we make sure to track down potential difficulties in an early stage, so they can be taken care of well before production and won't cause a delay in delivery.
QUALITY CONTROL
Our Quality Control dept. is made up of qualified inspectors who have worked in our factory for many years, objective inspection reports can be given upon request by either our QC- team or 3rd party inspectors. Inline inspections are done to make sure potential problems that only come up in production, are found in an early stage, so that they can still be changed.
DESIGN & DEVELOPMENT
Our team of Production Managers in Guangzhou, China are experts at taking your ideas and turning them into finished garments.
ShopShopChina Company has an extensive archive of design inspiration to help with development from body styles, fabrics, and embellishment techniques.
It doesn't end with the custom garment… We also have a library full of trims from zipper pulls, patches, pins, labels, drawcords, hangtags, and more.
MANUFACTURING
ShopShopChina Company has manufactured apparel in China for a long time. In that time we have cultivated and maintained long-term partnerships with hand-selected factories in each of our product categories. Years later. These long term factory partnerships have streamlined and perfected our production process giving us an edge in quality, consistency, and price. The difference from ShopShopChina Company and other factories in China is we have our Stock Blank Apparel Collection where we make from 50.000 to 80.000 garments per season. The sheer volume of our Stock Production requires a huge infrastructure of Knitting Machines, Dye Houses, and Cut & Sew facilities. Keeping our factories busy all year round ensures us the best prices on our Custom Apparel which we pass along to you.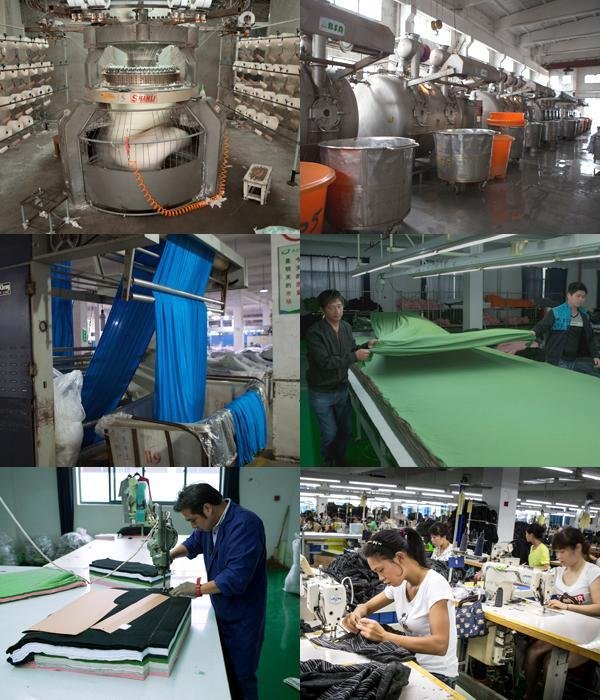 shopshopchina, We will ensure all products are packaged optimally and ship your products in compliance with all of your instructions. We ensure that your products arrive at their destination in personalized packaging and on time. We can take care of all your shipping needs, whether it is FOB or door to door (CIF), you are in good hands.
IMPORT & SHIPPING
Shipping is often overlooked when quoting a custom garment overseas.  With independent no matter how large or small your order, it can be put in a container with our stock garments that ship weekly from China to our warehouses.  Even a 600 pcs order gets full container shipping rates, and we get great prices.  If you were shipping loose cargo it would cost quite a bit more.
The large volume of apparel that Independent Trading imports each year, assures our customers efficient customs clearance and the most reliable, economical international and domestic freight pricing. Our team handles all documentation for quick customs clearance and arranges ocean and air freight from China to other worldwide destinations.

WITH YOUR CLOTHES IN OUR HANDS, WE ARE MORE THAN HAPPY TO DELIVER
CUSTOM APPAREL MANUFACTURING – ShopShopChina CO.
HIGH QUALITY & CONSISTENT MANUFACTURING.
ShopShopChina Company has manufactured custom apparel in China for a long time and has headquarters in Guangzhou – China.
Our Production Managers in China are experienced and can assist with every step of the production process from product development to delivery.
We guarantee high quality and consistent manufacturing, on time delivery, great customer service, and competitive prices.
We offer an endless array of design styles and a range of fabrics such as jersey, French terry, sherpa, polyester fleece and trends like marled fleece, yarn dye, slub, and many different wash treatments.
When it comes to knits, we have yet to be presented with something that is outside our capabilities. We have added a woven's factory to answer the growing needs and trends enabling us to produce everything from flannels to denim or technical jackets.
• MINIMUM ORDER QUANTITY IS 600PCS PER COLOR AND 1,200PCS PER STYLE.
(THIS MINIMUM WILL VARY, UP OR DOWN, WITH THE STYLE AND TYPE OF FABRIC CHOSEN.)
If the same materials are used in other orders, the minimum order quantity can be: 30 pieces of shirt of the same color, 100 pieces of T-shirt of the same color, and 100 pieces of jeans of the same color, and it is enough to request only one type of them.
• LEAD TIMES: AFTER PRE-PRODUCTION APPROVAL, TYPICAL LEAD TIMES ARE 90-100 DAYS TO EXIT CHINA.
(LEAD TIMES WILL VARY WITH THE COMPLEXITY OF THE STYLE AND FABRIC.)
Call Us Anytime At : +86-13711461841/ 020-22190409